PARADE is Now Open
The Chance, Jul 3, 2017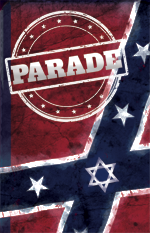 Now running until the end of the month of July - PARADE. At the Chance Theater.
Amid religious intolerance, political injustice and racial tension, this stirring Tony Award-winning musical explores the endurance of love and hope against all the odds — themes especially relevant in today's divisive and disconcerting political climate. In 1913, Leo Frank, a Brooklyn-raised Jew living in Georgia, was put on trial for the murder of a 13-year-old girl. Armed with a rousing score and a powerful script, PARADE takes an unflinching look into the darkest corners of America's history.
Bette Aitken theater arts Center
5522 E. La Palma Ave.
Anaheim, CA 92807
how to submit news
Simple! Click HERE to open a new email window and enter your news. Tell us who you are and provide contact details. Also, do your best to send at least one good quality picture.
News items will first be reviewed by a news editor, but there's no guarantee that they'll be always be published.
GUIDELINES: Since this is a site for the Arts in Anaheim, news material should be connected to that idea.