The Anatomy of Love
Casey Long, Jul 3, 2017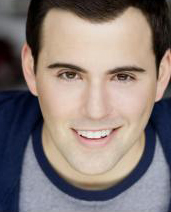 Chance Theater, Anaheim's official resident theater company, is pleased to announce a LAB workshop production of resident playwright Ted Malawer's new play, The Anatomy of Love . The play is being directed by Trevor Biship ( Middletown, A Bright New Boise ), and will run for only three performances -- Thursday, July 20; Saturday, July 22; and Sunday, July 23.
Ted Malawer - pictured left.
The Anatomy of Love is about Danny and Laura, a typical modern couple. She is a dedicated, hard-working lawyer while he, an underemployed actor, is a stay at home dad. Their marriage has been shifted to auto pilot as both of them strive for the American dream. But all is brought to a dead, frightening stop when their seven-year old daughter's teacher suggests that the child is most likely transgender. What follows is a fierce and sometimes hostile battle with Danny and Ms. Spencer advocating acceptance and pre-emptive reassignment and Laura adamantly refusing either action. This highly relevant issue of our time is the battleground for this emotional and heartbreaking story of fierce love and dreaded loss.
The Anatomy of Love had previous industry staged readings in New York City with a cast that included Golden Globe and Emmy Award-winning actress Edie Falco (The Sopranos, Oz, 30 Rock) and was directed by Tony Award-nominated director Sheryl Kaller ( Mother and Sons, Next Fall ). The Anatomy of Love also had readings at MCC Theater in New York City. As a part of our On The Radar (OTR) New Works Series, Chance Theater will stage the first workshop production of The Anatomy of Love.
WHERE: Chance Theater @ Bette Aitken theater arts Center
5522 E. La Palma Ave., Anaheim, CA 92807
TICKETS: $15.00. Call (888) 455-4212
or visit www.ChanceTheater.com.
how to submit news
Simple! Click HERE to open a new email window and enter your news. Tell us who you are and provide contact details. Also, do your best to send at least one good quality picture.
News items will first be reviewed by a news editor, but there's no guarantee that they'll be always be published.
GUIDELINES: Since this is a site for the Arts in Anaheim, news material should be connected to that idea.