news and views
Editor, Dec 6, 2016
People are beginning to ask questions about the February 18th Concert -- Broadway Arts: What is it? Where do I get information? Can I buy tickets? Who will be the main stars? How can I help spread the word?
With striking brand colors of red and gold the new site will keep you up to date as the event unfolds.
Casey Long, Nov 30, 2016
Anaheim, California: Chance Theater is thrilled to announce its lineup for 2017, which will be the third to employ both stages in its new home at the Bette Aitken theater arts Center. Next year will feature nine fully-staged productions, a workshop production, and three staged readings of new plays still in development.
The Editor, Nov 24, 2016
Here is the December Newsletter
Earlier Newsletters
Based on press release, Nov 23, 2016
You will be able to find several Nutcrackers around in December, but to my mind none are more wondrous than the versions created by Anaheim Ballet. If you are not completely enchanted and almost moved to tears with its sheer beauty I would be very surprised. It's worth the best ticket you can afford to buy just to get closer to the front.
(Left: Clara, danced this year by Madeline Czekaj)
The holiday season comes to life in Anaheim Ballet's production of The Nutcracker -- the heartwarming tale of Clara and her Nutcracker Doll who changes her woeful winter into a fanciful feast in Candyland.
Cynthia Smith, Nov 23, 2016
At the end of a year which has witnessed mindless vandalism at the Anaheim facility for Creative Identity, and the generosity of the arts community to help them recover some of their losses, they are bouncing back with their Winter Concert. They always put on a great, heart-warming show – so this comes warmly recommended.
Grace Lee and Michael Bus, Nov 20, 2016
What would the holiday season be without attending at least one magnificent choral concert? So we want to give a loud shout-out that here, in the heart of Anaheim, we are fortunate to have a magnificent chorale – The Meritage Vocal Arts Ensemble. As you plan your December arts program, pencil in the date for a spellbinding experience on December 11th.
For its second concert of the season, Meritage will explore...
Michael Buss, Nov 18, 2016
After a somewhat choppy summer during which the Orange County Symphony sought to settle a new conductor in post, Brazilian Maestra Aline Sardaő finally raised her baton on Sunday November 13th and unleashed Mozart!
Unleashed is the right word, because although the number of musicians
Shannon Ambourn, Nov 18, 2016
Muzeo Express: Holiday Model Trains is an all-new annual exhibition that is sure to become a holiday tradition, delighting children and enthusiasts alike. The display includes themed layouts such as Thomas the Train, California landmarks and a vintage department store window sponsored by Macy's. Brought to you by Toy Train Operating Society and Train Collectors Association, the former creators of the Nixon Library display.
Josh Spears, Nov 3, 2016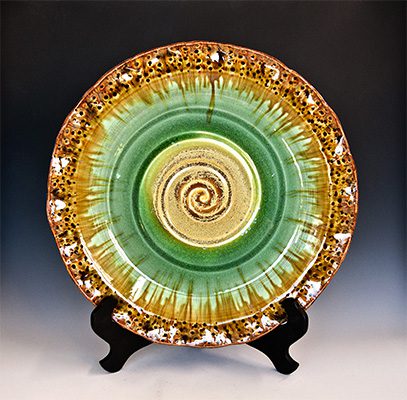 November 3, 2016 (Anaheim) – The Association of Clay & Glass Artists of California (ACGA) presents SoCal Ceramics and Glass at Muzeo Museum's Carnegie Building, November 12, 2016 through January 1, 2017. The exhibition features the artworks of eight invited southern California artists: Caroline Blackburn, Pierre Bounaud, Beverly Crist, Maria DeCastro, Paul Harrie, George Jercich, Alone Larsen and Cheryl Tall.